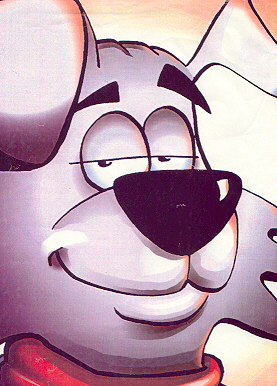 The comic book Rooter (as opposed to the real one) is a back-alley "Memphis-Mutt" who was befriended by the beautiful Ms. Belle Love, one sultry southern night as he was scrounging for scraps behind the Blue Plate Diner. In reality, this is very similar to the story of the real Rooter, who was saved from a trash dumpster at about 10 weeks old by my wife. He was most definately on his way to the pound, three days before Christmas. Some things just shouldn't happen, so the love story began.
Back to the book...Orphaned at an early age, after his loving parents disappeared, Rooter was raised by his mentor Muddy Walter. His comfortable life with Ms. Belle is not without its trials and tribulations.
Other similarities between the two Rooters include, sleeping a lot, being slightly anxious most of the time and having lots of friends and love around the house.